TDC's Silver Anniversary, 2016–2017 Season
Explore TDC's past and present here! Our "ride to 25" has been quite the journey, and this content highlights the best of TDC! Throughout the season, we'll continue to post archival photos, videos, interviews, messages and more! Celebrate with us on February 4th for Full Circle our Silver Anniversary Gala and on March 11th for our 25th Anniversary Performance at the Auditorium Theatre!
---
FEATURED STORY: 
25 YEARS OF COLLABORATION 
TDC has worked with the esteemed Ann Reinking, the University of Chicago, the Chicago Symphony Orchestra, Chicago's famed architect and MacArthur Fellow Jeanne Gang, most recently Yoko Ono and Project 120, as well as many others. Join us as we reflect on these important works in TDC history.
DANCE + ARCHITECTURE
Changes of Phase (2014)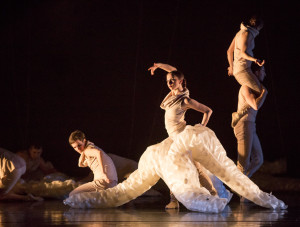 Mix dance, architecture, and physics.  The result?  Changes of Phase – a barrier breaking collaboration with world renowned Jeanne Gang of Studio Gang Architects.  TDC also tapped a team of physicists from the University of Chicago in a dramatic brainstorm, transforming science into art on stage. With exotically designed set pieces, TDC dancers performed the process of "jamming", in which materials become rigid or fluid. Many thanks also to University of Chicago's Sidney R. Nagel and Peter Heppel for their scientific and engineering contributions.
CLICK HERE
to see footage from the Studio Gang Architects about the science behind
Changes of Phase.
---
More 25th Season Stories – Read all the stories celebrating TDC's 'ride to 25'!
25th Season Video Album – Watch videos which highlight TDC's past and present!
25th Season Photo Album – Look back at archival photos of TDC Company members and artistic staff in performance, in the press and on tour!